Written by Olesja Heinz
Your home is your sanctuary. The decor and design in your home is all a reflection of who you are, as your interests, lifestyle and aesthetic.

From time to time, you may feel like changing something. Refreshing your home to reflect your personal style may seem like a difficult task. But it's actually simple, if you are aware of some tricks.

To make it even more simple, we asked three interior designers to share their styling secrets and tricks. With a few easy changes, you can truly transform your personal space. Before you know it, you'll be just like one of those people your friends envy for having great design taste without even trying.
Expert-approved tricks for home styling and interior design.
Lynne Bradley

www.lynnebradleyinteriors.com.au
Lynne is a highly respected representative of the Australian design community whose work is regularly published in design and lifestyle journals, publications and blogs.

Lynne's defining style is one of contemporary luxurious elegance, capturing a client's personality to create comfortable homes that are sanctuaries, where long cherished objects and fresh design amalgamate to craft uniquely personal residences.

What means good design to you?
"'Good Design' is thought-provoking, practical and beautiful. It must respond to the setting and inhabitants that use it both practically and aesthetically."

What is your personal secret for outstanding interior design?
"In my view, the most successful approach to delivering exceptional designs is to thoroughly understand the idiosyncrasies of the space and the clients. With a thorough understanding of your project including its restraints and freedoms, creating a unique language for the design unfolds effortlessly."
Do you have a favourite styling trick that works in every room/house?
"I would have to say that grouping items in uneven numbers always looks good – whether that be the number of flowers you put in a vase, or objects. Also, keeping 'like' objects together as a collection is more impactful that spreading them throughout the home."
What is your favourite La Maison piece?
"How can I choose just one? I would have to say the Louis Buffet in Black for its curves and ample storage. This is a piece that transcends all design styles and can equally fit into a contemporary or more classic scheme."
Lynne's work
Emma Mackie

www.m-interiors.com.au
Following a lifelong passion for Interiors, Emma established M Interiors – a boutique consultancy that offers design and styling services for predominantly residential projects.

Emma works with a number of different building companies on new builds and renovations and her ethos is to create beautiful and functional spaces that reflect the style and personality of her clients.
What means good design to you?
"Good design is giving due consideration to space, light, colour, form & function and ensuring there is a connectivity between all these elements within their specific context or environment."

What is your personal secret for outstanding interior design?
"It's not so much a secret but rather some advice for those embarking on a new build or room update – I would strongly recommend collecting samples of all your selections along the way and keeping a library of them when creating your interior scheme. Being tactile brings your scheme to life and is a great visual reference for adding colour and texture. I refer to mine for each project constantly."
Do you have a favourite styling trick that works in every room/house?
"Don't ignore your walls! I love using wallpaper to transform a space but if that's not your thing then art is another obvious choice for adding appeal. Other options include decorative panelling and mouldings, framed photos, mirrors and textured ornaments such as juju hats and woven baskets."

What is your favourite La Maison piece? 
"The Manyara dining table without a doubt. I love the old grey finish and the thick profile of the table-top. It's such a classic enduring style that works well with many different styled chairs." 
Emma's work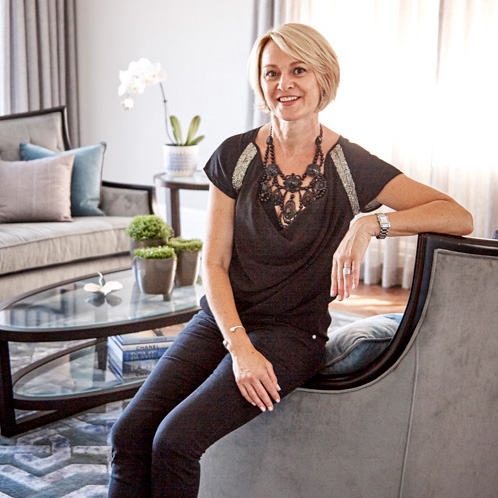 Victoria Waters

www.victoriawatersdesign.com.au
Victoria and her team create classic bespoke design solutions for residential interiors.

Her work is regularly published in leading design magazines.
What means good design to you?
"Meticulous detail. Good Design is all in the detail. Every detail of your home should be considered, reviewed and reconsidered."
What is your personal secret for outstanding interior design?
"Planning!! A successful Interior Design is one that is well considered. Outstanding Interior Design is based on having a clear understanding of your client's style and how they live in their environment. I work collaboratively with my clients to design a home that they love and appreciate. Each space is individually designed to ensure it is functional, as well as beautiful."
Do you have a favourite styling trick that works in every room/house?
"When you enter a room, the first thing you look at should be your focal point. Focus on these focal points in your room and ensure you don't forget to style these areas."
What is your favourite La Maison piece?
"I have several but at the moment my favourite piece is the Toulouse Armchair. I have just specified these for a recent project and I'm so in love with them I think I need a couple for my own home."
Victoria's work
Shop the favourites of the interior designers